We have made it to the end of the 2021 Diamond Challenge - woo hoo! Thank you to all that attended, participated, and helped out.
To download the final event brochure click here: Diamond Challenge Program
Order of Events:
2:50PM Preview Videos
3:00PM Welcome
Keynote Speaker: Alex Osterwalder
Topical Prizes
Keynote Speaker: Ann Makosinski
Special Prize Awards: Instagram Giveaway & TikTok Winners
Alumni Video
Horn Entrepreneurship Top Global Prizes
Business Innovation Awards
Social Innovation Awards
Final Pitch Videos
5:30PM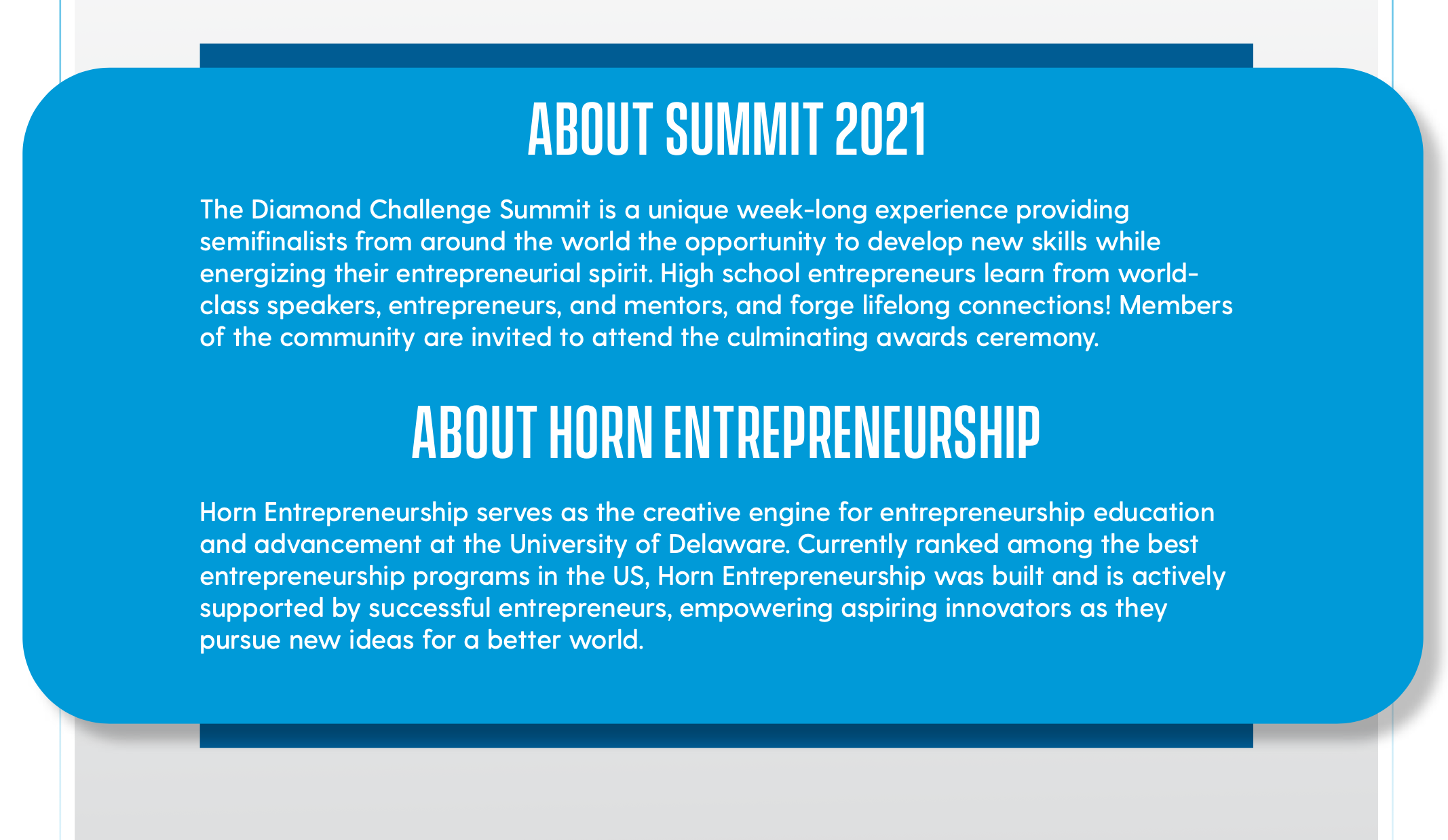 Highlights from the event:
"One Word: AWESOME! That's how I felt after spending a productive hour with all of you. THANK YOU Rachel and the entire Diamond Challenge team for inviting me. Grateful for the opportunity."
"The platform experience is awesome - thank you for making it all happen."
"This feels state of the art."
"WOW! That was true magic up there. Every student that attended the session told me they loved the energy, insight and enthusiasm you all brought to the stage. Incredible."
"I had so much fun with these two awesome humans. They had such wonderful questions! Great conversation."
"I never realized how much opportunity Diamond Challenge would give me. These mentors and judges gave amazing feedback that I will use forever."
Testimonials from Students and Staff:
"An entrepreneur does not seek to solve the problem right. An entrepreneur seeks to solve the right problem. An entrepreneur does not seek to build a product. An entrepreneur seeks to build a business model. Too often folks miss these insights. If we grasped these insights less time and money would be spent trying to create value and social change. If we grasped these insights so much more value and good would be created. Young people all over the world grasp these insights thanks to The Diamond Challenge. Thanks to the Diamond Challenge young people all over the world are creating value and positive social change today, now!" - Vince DeFelize
"I am continuously astonished by what I experience each year as a volunteer with the Diamond Challenge program. The creativity, energy, rigor, and passion displayed by Diamond Challenge teams is amazing. And being able to interact directly with the teams through judging and mentoring at the Summit completes the rewarding experience for me and other Gore volunteers." - Dave Liss
"It's not about meeting the person virtually or person in person. It's just about the energy that we share between each other." - Kichemy Dorcena
"The diversity of the people I met and all I have learned through the pitching, the workshops, and the panels have made this week one of the most evolving of my life!" - Ariadne Papouli
"I had one team have technical difficulties with their mic and video during their Q&A. They ultimately lost most of their time to this mishap, but Rachel suggested that, at the end of the session, they should get another opportunity to re-do their Q&A. They managed to solve their technical problems by then and took advantage of the opportunity. They ended up having one of the strongest Q&A responses of any team that session. Just thought this was a good anecdote on how you can come back strong after a stumbling at first." - Jan Castro
"We gained lot's of useful experience about entrepreneurship. Especially, Diamond Challenge taught us that teamwork, hard work and creativity is the key of success. Diamond Challenge really showed me the world from different angle. Now I'm pretty sure that children can change the world and nothing is impossible if there is will. I am very thankful for this great opportunity." - Nikoloz Khukhunaishvili