Innovation Delaware Fellowship
A catalyst for translating ideas, discoveries and inventions from the laboratory to the marketplace.
September 2023 - May 2024
About the Fellowship Program
The Innovation Delaware (InDE) Fellowship program provides inventors, research scientists, innovators and aspiring entrepreneurs with an exceptional opportunity to learn about, and gain first-hand experience with the process of translating their ideas, discoveries and inventions from the laboratory to the marketplace. The Fellowship also serves as a catalyst for lab to market translation by facilitating valuable connections to the individual leaders and support organizations comprising Delaware's innovation & entrepreneurship (I&E) ecosystem.
Program Features & Benefits
Fellowship participants benefit from a series of fifteen, 4-hour workshop sessions hosted at a variety of university-based and industry-focused innovation centers in Delaware. All sessions emphasize development of critical knowledge, skillsets and connections needed to successfully bring new science and technology-based products and services to market. They also focus on experiential learning, insights gained from practice and networking.
Workshop Sessions. Each session engages leaders and subject matter experts from Delaware's I & E ecosystem – including experienced innovators & entrepreneurs; industry, government, trade association and academic leaders; business service providers; media representatives; and investors. Collectively, these leaders and experts will share insights and experiences pertaining to:
Developing a personal brand, leadership vision and elevator pitch

Understanding business basics for scientists

Industry-specific opportunities & pitfalls, including regulatory considerations

Innovation & entrepreneurship processes and pathways in University and industry contexts

Customer discovery & business model development

Conflicts of interest and legal issues, including intellectual property, founder agreements and more

Effectuation, bootstrapping and leveraging internal and external networks for support

User-centered design, proof of concept, prototyping and minimum viable products

Funding and fundraising, go to market strategy and financial modelling

Building an investable team

Working with mentors, advisors & service providers

Storytelling and pitching

Negotiation, including term sheets and contracts

Cultivating an innovative company culture
Practical Experience. Participants will select one of three practical experience pathways to focus on during the Fellowship program: (1) startup business, (2) asset development, or (3) intrapreneurial venture. Fellows who select the startup business pathway will utilize learnings and connections to initiate or accelerate the process of translating their own inventions and discoveries into marketable products. Fellows selecting the asset development pathway will seek to devise and validate a viable commercialization strategy for a university or government-owned technology. And Fellows who select the intrapreneurial venture pathway will seek to develop a new product or business model for a company-owned technology. All Fellows will share periodic updates on their progress during workshops and receive individualized feedback and guidance from program mentors.
Innovation Showcase. The InDE Fellowship program will conclude with an Innovation Showcase in which Fellows pitch their startups, asset development projects and intrapreneurial ventures to an audience that includes workshop presenters, mentors and other invited guests. Follow on funding may be awarded to support the most promising startups, projects and ventures.
Eligibility, Selection Criteria and Cohort Composition
Eligibility
The Fellowship is open to anyone interested in learning about, and gaining experience with the process of translating research-based discoveries and insights from the lab to the market. This will typically include industry research scientists, graduate students in STEM fields, postdoctoral researchers, university faculty and independent inventors.
Selection Criteria
Involvement in research, demonstrated interest in innovation and entrepreneurship as well as a strong commitment to prioritizing participation in workshop sessions will serve as the primary selection criteria for evaluating fellowship applications.
Cohort Composition
The ideal cohort will include both industry and university participants with varied backgrounds and disciplinary interests. The 2023-24 cohort will be limited to no more than 30 Fellows.
Application Process
To be considered for selection as an InDE Fellow, prospective participants must complete an application form and submit a letter of nomination. An interview may also be required.
The application form asks prospective Fellows to provide background information and detail their specific interests. Letters of nomination may be provided by a supervisor, faculty advisor or anyone who is well positioned to comment on the applicant's interest and suitability for selection as an InDE Fellow. Letters should specify whether the nominator (or their organization) intends to support the program fee for the applicant (see below).
The application deadline for the 2023-24 cohort is Thursday, August 31. There is no cost to apply.
Program Fee
The program fee helps to ensure sustainability of the InDE Fellowship by covering all costs associated with participation, including workshop materials, individual mentorship, speaker honoraria, facility rentals, food and more. The fee is payable from any corporate, university, non-profit or personal funding source, as available and appropriate. Financial assistance may be available for well qualified applicants.
Industry participant: $6,950

University/Non-profit: $4,950
Pre-revenue or early stage startup: $4,950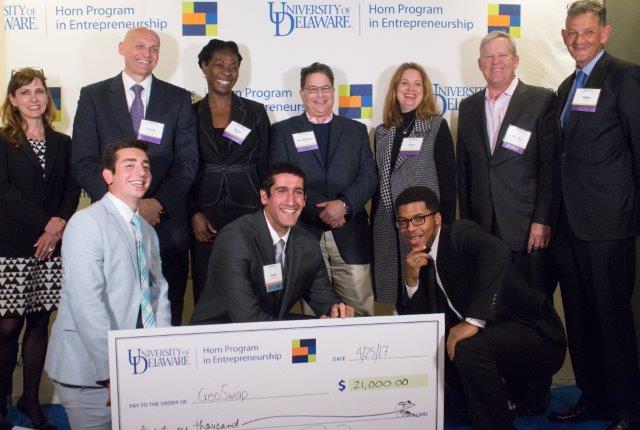 Coalition for Translational Entrepreneurship
The InDE Fellowship is offered by the Coalition for Translational Entrepreneurship (CTE) as a collaborative project of Horn Entrepreneurship and the College of Engineering at the University of Delaware. Please contact Dan Freeman, Founding Director, Horn Entrepreneurship (freemand@udel.edu) or Mark Mirotznik, Associate Dean for Research & Entrepreneurship (mirotzni@udel.edu) to explore opportunities to participate, collaborate, sponsor a Fellow or seek additional information. Delaware State University and Delaware Technical Community College are also CTE partners.